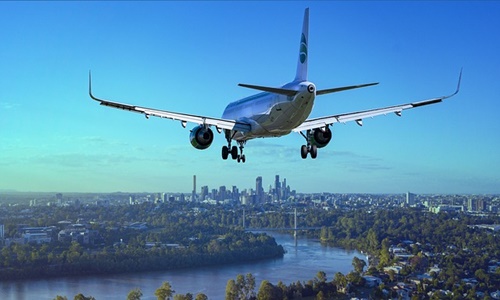 The Abu Dhabi Department of Culture and Tourism has reportedly signed a Memorandum of Understanding for the Franco-Dutch airline firm, Air France-KLM, establishing a strategic collaboration to improve the connectivity between Europe and Abu Dhabi further promoting the emirate as a preferred tourist destination.
Apparently, the signing ceremony, which took place at the Louvre Abu Dhabi in the presence of the Director-General of Tourism at DCT Abu Dhabi- Saleh Mohamed Al Geziry, the Chief Commercial Officer of Air France-KLM- Angus Clarke, the Senior Vice President of Network of Air France and the Chief Commercial Officer of Abu Dhabi Airports - Olivier Piette, and Maureen Bannerman.
As per the reports, the collaboration enhances Abu Dhabi's global reach with daily flights to Paris, whose flagship airline Air France is a Skytrax Top 10 airline. Furthermore, the MoU reaffirms Abu Dhabi's objective of attracting over 24 million tourists by the end of 2023, as well as its commitment to increasing destination awareness.
According to Al Geziry, this agreement demonstrates DCT Abu Dhabi's commitment to promote, defend, and advance Abu Dhabi's tourism sector and boost the emirate's standing as a worldwide destination. DCT is allowing people from all over the world to visit and experience the rich legacy and diverse culture by building long-term agreements with trusted international airlines. This improved connectivity will not only improve the travel experience but also sets Abu Dhabi as an extra entry point to the East.
The report cites that, as a founding member of the SkyTeam alliance, Air France-KLM is well-positioned to provide new possibilities for enhanced connectivity within the aviation industry and an anticipated rise in capacity.
Moreover, DCT Abu Dhabi and Air France-KLM have also disclosed plans to launch joint travel trade promotions in the Netherlands and France aimed at major operators and travel agencies. By utilizing the current networks, this effort seeks to strengthen Abu Dhabi's tourism presence in the European market and draw more tourists to the emirate's distinctive attractions.
Source- https://www.zawya.com/en/business/travel-and-tourism/abu-dhabi-partners-with-air-france-klm-to-expand-europe-abu-dhabi-connectivity-er4hpju3