Italy's UniCredit mulls over plausible merger with French rival SocGen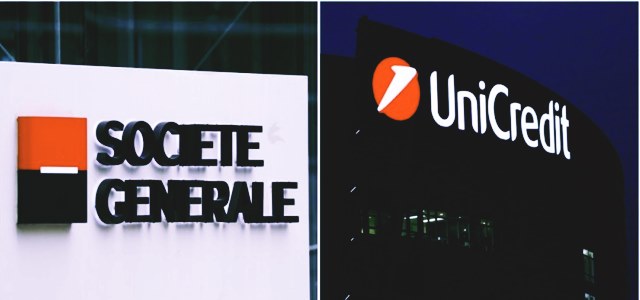 The Italian bank UniCredit S.p.A. is reportedly seeking a potential merger opportunity with the French multinational bank Société Générale S.A (SocGen). Sources revealed that if deal comes to fruition, it could set an example and pave the way for banking mergers in Europe.
For the record, UniCredit S.p.A. is regarded as Italy's largest bank in terms of total assets, providing banking and financial services across 17 countries. The Chief Executive Officer of UniCredit, Jean-Pierre Mustier is a French national who has previously worked as the head of SocGen's investment banking unit. If sources are to be believed, Mustier has been contemplating the idea of a merger for months, although no official approach has so far been made towards SocGen.
Further evidence from authentic reports suggest that senior executives from both organizations indicated the planning to be in its early stage with adjournments caused by prevalent external conditions in Italy. The existence of a volatile political situation pertaining to elections in Italy has apparently caused a delay in the schedule for the deal from the initial plan of 18 months.
Reportedly, SocGen itself denied any ongoing board discussions regarding a possible merger with UniCredit. SocGen has already been at the epicenter of discussions in the European banking industry ensuing from its takeover of the EMC division of Germany's Commerzbank AG, propelling the speculation of a merger with UniCredit.
The Chief Executive Officer of Société Générale was quoted last November mentioning that cross-border bank associations in Europe were less likely in the imminent future. However, the bank's three-year strategy would elevate it to a negotiable position for any merger prospects to come forth, he added further.
Sources also confirmed that UniCredit declined to comment on SocGen's statement and cited that the organization's turnaround plan for the year 2019 is based on organic assumptions.