Australian scientists develop novel polymer sponge for oil spills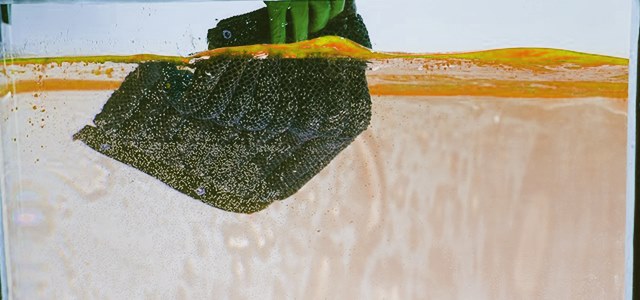 A bunch of Australian scientists have apparently developed a new type of polymer sponge that is capable of soaking oil spills. As per reports, the polymer is made of Sulphur and waste cooking oils (food & petroleum industries by-products) that can easily clean diesel and crude oil spills.
Sources reveal that the polymer can be squeezed to recover the oil and can be reused as it works like a sponge to absorb the waste materials. As cooking oil and Sulphur are hydrophobic in nature, the resulting low-density polysulfide polymer is capable of soaking up the hydrocarbons such as diesel and crude oil, repelling water.
Justin Chalker, chemist, Flinders University was quoted saying that the new polymer sponge can be added to the oil directly. The polymer sponge is moreover reported to have found maximum usage in the coastline remediation that is done manually and in cleaning of small oil spillages in ports.
Dr. Chalker in a statement also claimed that the polymer sponge being an entirely new and environment friendly application for quickly soaking the oil spills, is gaining traction in the polymers industry. He was pretty confident about the development as it can largely help in mitigating the constant problem of crude oil spills in the aquatic environments.
Sources reveal that the team led by Chalker will be working to establish a plant in South Australia that will significantly increase their production capacity. On achieving the first level target, they further intend to commercialize the polymer sponge product on the scale that will be required for serious clean-ups.
If experts are to be believed, this development has bought a revolution of sorts in the polymers industry, that has been witnessing serious problems regarding oil spills lately. The Amazon basin in Ecuador and the Niger Delta are the two areas in the near future that are soon to benefit from this simple and inexpensive remediation strategy, cite sources.