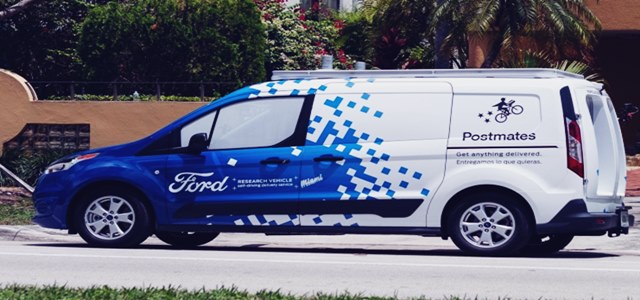 Joining forces with Postmates and Dominos, automotive industry giant Ford has already begun testing its autonomous meal-delivery system for folks in Miami. Ford has recently announced that its autonomous delivery will be hitting the roads to gauge how customers interact with the self-driving Ford Connect vans.
Sources reveal that the carmaker will also be testing vehicle designs with many lockers in bid to be able to deliver to multiple customers per delivery route. As Postmates handles anything from food to hardware, the autonomous vans are retrofitted with touchpad-accessible lockers of various sizes to accommodate different types of deliveries.
Quoting Ford's spokeswoman, the Postmates pilot is Ford's first self-driving research vehicle that has been built to test a variety of interfaces including the external audio system, the touch screen, and the locker system of the self-driving vehicle that's slated to arrive in 2021.
For the record, the delivery process begins after a customer orders meal via an app, post which a restaurant worker places it into the van by tapping a numerical code into a keypad, opening one of its lockers. The delivery van then makes its way to the customer's address and when it is close enough, the customer receives a notification and code. Post arrival, the appropriate locker lights up & slides open.
Ford said that the entire purpose of this pilot program is to understand how customers & businesses interact with autonomous delivery vans. The company is also trying to make these interactions as easy as possible through partnerships with local businesses, which in turn is helping the company provide seamless experience to customers, whilst strengthening its stance in the global automotive industry.
If experts are to be believed, Ford's purpose-built autonomous cars are likely to leave an influential impact on the growth prospects of the automotive industry, given the company's perpetual efforts in the self-driving race. The automaker, for the record, has also previously deployed its self-driving vehicles in collaboration with Domino's Pizza for a limited trial in Miami.