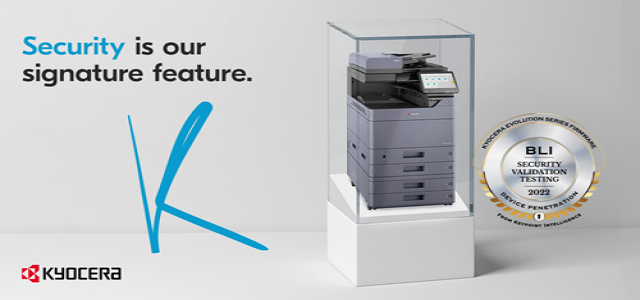 Fairfield, New Jersey, August 1st, 2022 – Kyocera's Evolution Series, which encompasses ten A3 MFP devices such as the TASKalfa 3554ci, has passed the Penetration Testing level of Keypoint Intelligence's rigorous BLI Security Validation test program.
The volume and complexity of security threats facing today's organization is increasing daily. The need for robust data protection has never been greater – and once again, Kyocera Document Solutions America, Inc. has risen to the challenge.
Kyocera was awarded the prestigious Keypoint Intelligence Security Validation Testing seal and certificate during its REIMAGINE dealer conference, which took place between June 1-3, 2022, in San Antonio, Texas.
In presenting the recognition crystal, Anthony Sci, President and CEO of Keypoint Intelligence, explained the two-pronged process whereby Keypoint Intelligence and its testing partner Accenture Security test devices: through automated cyberattacks and hands-on white hat hacking.
On the value of the assessment, Sci said, "[Keypoint's assessment process] is really a good way to verify the equipment you sell is safe to sell to your clients." He revealed how, after testing the TASKalfa 3554ci, "Kyocera passed with flying colors." There were no noteworthy security weaknesses detected.
The validation extends to all other ten devices in the Evolution Series.
Speaking to a large audience of Dealers, Sci explained the relevance of this recognition: "I think it's important for our Dealer community to have a competitive advantage over the competition and this is one of the arenas that you can really do that. Salespeople can put this certificate in their bag and show it to their clientele."
One such competitive advantage is that the Evolution Series firmware comes with the ability to enable advanced level of security installed as part of the initial configuration to reduce human error or any security threat*. With quick security set up, this range of devices provides outstanding data protection from the get-go.
With the crystal in hand, Óscar Sánchez, President and CEO of Kyocera Document Solutions America, Inc. said, "This recognition means a lot to us, and we are very proud. A big thanks must go to our team in Japan for developing and designing such a great product."
Having had time to reflect on Kyocera's latest recognition, Sánchez was keen to reiterate just how important security is for Kyocera: "Cybersecurity is now top of mind for everyone. Our customers trust us with their information, and we have a duty to ensure it remains safe."
Reflecting on the validation testing itself, Kyocera's President is clearly very proud. "To be recognized by an organization as reputable and respected in our industry as Keypoint Intelligence is hugely gratifying, and it tells us we are doing a lot of things very well with our TASKalfa devices. Having said that, we will continue to raise the bar because we know that security threats today do not stand still."
* To learn more about Kyocera's K-Level of security, please visit the security page on our website.
You can discover more about the Kyocera Evolution Series here.
About Keypoint Intelligence
For 60 years, clients in the digital imaging industry have relied on Keypoint Intelligence for independent hands-on testing, lab data, and extensive market research to drive their product and sales success. Keypoint Intelligence has been recognized as the industry's most trusted resource for unbiased information, analysis, and awards due to decades of analyst experience. Customers have harnessed this mission-critical knowledge for strategic decision-making, daily sales enablement, and operational excellence to improve business goals and increase bottom lines. With a central focus on clients, Keypoint Intelligence continues to evolve as the industry changes by expanding offerings and updating methods, while intimately understanding and serving manufacturers', channels', and their customers' transformation in the digital printing and imaging sector.
About Kyocera Document Solutions America, Inc.
Kyocera Document Solutions America, Inc. is a group company of Kyocera Document Solutions Inc. , a global leading provider of total document solutions based in Osaka, Japan. The company's portfolio includes reliable and eco-friendly MFPs and printers, as well as business applications and consultative services which enable customers to optimize and manage their document workflow, reaching new heights of efficiency. With professional expertise and a culture of empathetic partnership, the objective of the company is to help organizations put knowledge to work to drive change.
Kyocera Document Solutions Inc. is a group company of Kyocera Corporation (Kyocera), a leading supplier of semiconductor packages, industrial and automotive components, semiconductor packages, electronic devices, smart energy systems, printers, copiers, and mobile phones. During the year ended March 31, 2022, the Kyocera Group's consolidated sales revenue totaled 1.8 trillion yen (approx. US$15.1 billion). Kyocera is ranked #603 on Forbes magazine's 2021 "Global 2000" list of the world's largest publicly traded companies, and has been named by The Wall Street Journal among "The World's 100 Most Sustainably Managed Companies."
Contact:
Sam Leveridge
KYOCERA Document Solutions America, Inc.

Kyocera Document Solutions America, Inc.
225 Sand Road, Fairfield, New Jersey, 07004
United States
'[email protected]'
If you would like to opt out of future emails, please unsubscribe