Microsoft launches Project Natick, installs data center under sea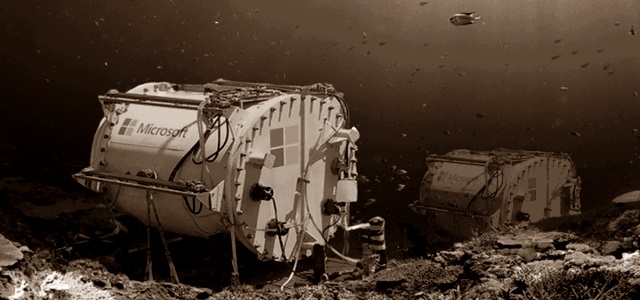 As a part of its energy-saving initiative, Microsoft Corp. has submerged a huge data center under the sea off Orkney in the North of Scotland. As per the official statement, Project Natick, as the initiative is tentatively titled, is aimed at conservation of the energy utilized for cooling servers on land area.
Apparently, Orkney was preferred over other offshore destinations as it is one of the pivotal regions renowned for renewable energy research. For the record, the data center was constructed by Naval, a shipbuilding firm in France, and then transported to Orkney islands in Scotland.
The data center located in Northern Isles spans 40 feet and resembles a submarine with a cylindrical shape. It is predicted to hold nearly 864 servers that can store nearly 5 million movies. Microsoft has claimed that the data center will be operational for a duration of five years and it will not require any kind of maintenance.
Emma Fryer, Representative, Energy sector at Tech UK hails the notion of data centers being close to or under the sea to be a very good one, since more than 50% of the global population resides near coastal areas. Sources cite that the decision was based on the firm's intentions to provide high-speed internet solutions as well as cloud data for the untapped coastal regions.
The theory behind placing data centers underwater is that the cost of cooling the computers is considerably reduced. Ben Cutler, the Project-in-charge, is of the view that the warming effect on the data center will be minimum with the sea water downstream getting warmer only to a minimal extent. He further added that the overall effect of the data center operations on the ecology will be favorable.
On the flip-side, the computers in the data center cannot be repaired once they are broken. In fact, the data center is smaller as compared to giant data warehouses that are used for storing substantial information.