Toyota & Suzuki extend partnership to lead India automotive market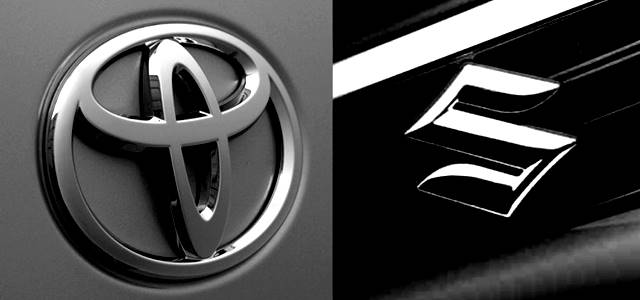 In what may seem to be a strategic move to retain dominance in India automotive industry, the Japanese automaker Toyota Motor Corporation has decided to further extend its business relationship with Suzuki in jointly manufacturing & selling cars in India. The strategic move is like to help Suzuki in exploring the untapped production base of Toyota in the country, while the latter will utilize Suzuki's network and infrastructure for expanding its business across smaller towns.
It is being speculated that both the firms will be making India their automobile manufacturing base, while increasing their consumer base through vehicle sales in Africa & other global markets.
According to the terms & conditions enlisted in the deal between the two automotive giants, Toyota Kirloskar Motors Private Limited, a division of Toyota Motor Corporation in India, is likely to manufacture vehicles based on Suzuki's model and sell them through the individualized sale network of both companies. Experts predict that the two Japanese automakers will consolidate their presence in India through the sharing of infrastructure facilities as well as distribution channel networks across the country.
RC Bhargava, the chairman of Maruti Suzuki, has strongly supported the decision claiming that it is indeed a win-win situation for both the vehicle manufacturers. He further added that the synergy between the firms can help them in saving millions of dollars ahead. It has been speculated that the two firms will work together on electric vehicle production as well as development of new technologies for automobiles.
Sources cite that both Toyota and Suzuki have commenced the discussions over the introduction of new ventures in the areas of technological expansion, regional growth, and car production. The companies, in all plausibility, will be debating over Denso and the provision of tech support to Suzuki for manufacturing compact & highly efficient powertrains.